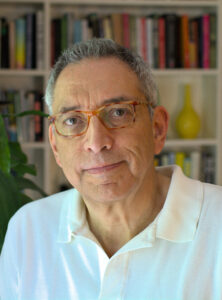 Daniel Akst is a journalist, critic and novelist whose work has appeared in the New York Times, Wall Street Journal, Los Angeles Times, Slate and many other leading publications. His first book, Wonder Boy, was the nonfiction account of a wondrous financial fraud he uncovered while working at the Los Angeles Times; it was chosen one of the 10 best books of 1990 by Business Week. His novel St. Burl's Obituary (1996), about a fat man who becomes unrecognizably thin (and takes up the chance to re-inhabit his former life), was short-listed for the PEN/Faulkner prize for best work of fiction by an American. His novel The Webster Chronicle, which updated the lives of Cotton and Increase Mather in the context of a modern witch hunt, was praised in the Atlantic Monthly, Washington Post and elsewhere.
He tackled the problem of the appetites in We Have Met the Enemy: Self-Control in an Age of Excess (2011). (The paperback was published under the title Temptation.) The book was widely reviewed, translated into German, Hebrew, Japanese and Korean, and remains in print. His most recent book is War By Other Means, an account of America's World War II pacifists and their important role in the evolution of the American left, the civil rights movement, opposition to the Vietnam war and social change generally.
Akst has worked as a reporter, columnist and editor at the Los Angeles Times, and as a columnist and editorial writer at Newsday. For more than eight years, he wrote a column for the Sunday business section of the New York Times. And for roughly a decade, he was a contributing editor at the Wilson Quarterly, where he wrote about the historical impact of plummeting food prices, why looks matter, our changing attitudes about thrift, and the problem of self-control. For nearly a quarter century he's been a frequent contributor of articles, essays and reviews to the Wall Street Journal, where he also writes the Saturday news quiz.
His scores of book reviews over the years have appeared in outlets as diverse as the Village Voice, Reason, Bloomberg, Smithsonian and the Boston Globe, and he served as a board member of the National Book Critics Circle. He's also published humor in the New Yorker, the Spectator, the New York Daily News, the Wall Street Journal and elsewhere. His teaching experience includes time as a Koret Fellow at the University of California (Berkeley) Graduate School of Journalism, a visiting instructor in the humanities at Bard College, and an adjunct professor in the Bard Prison Initiative. He is a graduate of the University of Pennsylvania and lives in New York's Hudson Valley.